We're finally at the end of our saga. To recap, Jayne and Mamie have hit their career peaks of the decade, Doris has solidified herself as everyone's family-friendly blonde, Anita is in an odd transition between the 50s and 60s (although one can argue they all were), and Marilyn is about to rule the decade.
1959
Mansfield must have realized her star was fading when she was sent to work on Too Hot to Handle and  The Challenge. Both films are low-budget, British thrillers relying on Mansfield's sizable proportions to make up for weak plot points. Don't get me wrong, I love Mansfield and  Too Hot to Handle is one of my favorite films, but Mansfield was far from the Hollywood studios she had dreamed of since she was a child. The American press was still touting Man-Oh-Man-Oh-Mansfield, but her antics were making headlines over anything she was producing. The Sherriff of Fractured Jaw was released in the US (which I covered in 1958 to coincide with it's British release year) but Mansfield was out of the public's mind as an actress and more akin to today's reality stars.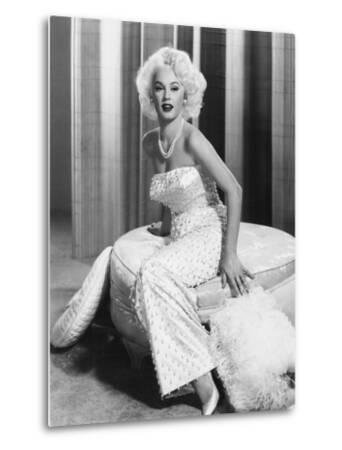 Van Doren found herself in a string of B-pictures through major studios such as MGM (The Beat Generation, The Big Operator, Girls Town) and United Artists (Guns, Girls, and Gangsters). Her turn in Teacher's Pet hadn't helped her star rise in the same way it may have helped others in her position and Mamie was still typecast as the 50s tough girl (my grandma would probably refer to her as "hard"). Mamie would continue to consistently work throughout the 60s.
Day only had Pillow Talk as her primary release for the year but the film would kick off her frequent collaborations with Rock Hudson. The duo was considered box-office gold as viewers watched their romantic exploits. Again, Day was virginal but could hold her own against "Hunky Hudson." The pair formed a close bond off-screen as well, which helped Hudson hide his sexuality.
Ekberg's sole contribution to her filmography, Sheba and the Gladiator, drew in few patrons – earning a little over $1,000,000. An Italian sand and sandals epic, Sheba did little to improve Ekberg's box office appeal. Ekberg's last great hit had been War and Peace, but Ekberg wasn't phased. While 1959 seemed to be closing with a sputter, 1960's La Dolce Vita would lead to international acclaim for Ekberg.
Monroe also contributed one entry in 1959 – Some Like it Hot (SLIH). The cultural significance of Monroe's turn as Sugar Kane cannot be understated. Considered the greatest comedic film ever made by AFI, SLIH earned roughly $11 million dollars at the box office. Monroe was applauded for her performance, although near daily set reports followed her behavior. While Tony Curtis said kissing her was like kissing Hitler, the public couldn't get enough of Monroe. Marilyn had begun the 50s as a forecasted Lana Turner look-a-like and morphed into the comedic, blonde queen of the decade.
Conclusion
I chose to divide this article into three parts for a multitude of reasons (primarily, who wants to read something that's 2700 words in one sitting?) but wanted to focus on how everything moved in parts. Monroe definitely opened the door for more sexualized blondes to make films in the 50s but saying they were imitators would be incorrect. North was in the same vein as Betty Grable, Mansfield wanted to create a more sexualized blonde, Van Doren was the bad blonde of the decade, Ekberg brought an international sophistication to American films, and Day was the penultimate girl-next-door who had worked in the trenches for just as long as Monroe. As Richard Koper explains in Affectionately, Jayne Mansfield, there was Marilyn then there were those who came after. Day wouldn't fit in this category but I have chosen to include her in this article sue to her popularity in comedies, not unlike Monroe. Monroe remains the symbol of the decade but her contemporaries' work deserves to be viewed as well.