When we last let off, we had introduced Monroe, Day, Mansfield, Van Doren, Ekberg, and North. Again, this piece shouldn't be considered a definitive, academic study on the 50s Blondes but instead should be viewed as a quick primer. If you want to know more about the blondes of the decade, I highly recommend Richard Koper's Fifties Blondes – an easily digestible encyclopedia on the women of the decade.
1957
Monroe saw the release of The Prince and the Showgirl but instead of working on another film project, spent the year focusing on her marriage with Arthur Miller. This is when the press began to become a little less-supporting of Monroe (in part because of Miller's trial with the House of Un-American Activities Committee for supposed communist leanings). Those who had been in Monroe's corner, such as columnist Walter Winchell, turned their backs on Monroe and attempted to sway public opinion. The Prince and the Showgirl was not as successful as Monroe's previous pictures, appealing more to European audiences. Monroe's Showgirl character, Elsie, was understated, intelligent, and dressed much more conservatively than what American audiences were used to.
Day also released a single film in 1957, The Pajama Game, and solidified herself as a family-friendly comedienne. Pajama led Day down a path she could never veer away from without fear of failure – one where characters were virginal and sweet while still being intelligent, a rare feat in the era. Day would not make another dramatic picture until 1960's Midnight Lace.
1957 saw Mansfield reach her stardom's peak. She was considered the most publicized woman of 1957 and Fox intended to cash in on her by releasing  The Wayward Bus, Will Success Spoil Rock Hunter and Kiss Them For Me. Unfortunately for Mansfield, her publicity didn't spell box-office popularity. While The Girl Can't Help It grossed more than Gentlemen Prefer Blondes, it seemed to have been a fluke. Wayward and Rock Hunter both profited but Kiss was the only Cary Grant movie to lose money – which was blamed on Mansfield. Mansfield's sexualized comedies, punctuated with near-constant squealing and cooing, were more successful with younger viewers than families, leading to a caricature that followed her until her death.
Van Doren was featured in Untamed Youth, becoming the first American actress to sing a rock-n-roll song and The Girl in Black Stockings. It was during this time Van Doren realized her contract with Universal wasn't going to provide her with the stardom she craved. Van Doren was the bad girl of the era but her talents tended to be relegated to B-pictures, frequently being the second picture on a joint program.
Ekberg's releases were Interpol and Valerie. Both films were relatively ho-hum releases but Ekberg's star would rise with her exploits in both America and Europe. Her dresses were known to pop or split open and she threatened to sue an artist for a painting he created of her supposed nude form. She started feuds by bluntly telling the press who she didn't like. Her overripe figure may have sold magazines but it was yet to be seen whether or not her stardom was a fluke or sprung from a genuine appreciation of her image on screen.
North's star was quickly fading but Fox made one last push for their contract player. North starred in No Down Payment and The Way to the Gold but neither film was an overt success. North's public appeal lay with musicals but they were quickly becoming passé. If North had been allowed to grow as a supporting player in the same fashion as Monroe, she may have been able to have a more fulfilling film career; however, North was forced upon the public, which never seems to take to spoon-feeding who they should like.
1958
This year saw a last-minute push for those who came after 1955 to secure some foothold in the public's attention spans. Monroe started filming Some Like It Hot – over a year since her last picture's release. North was placed in two supporting roles but ended up being dropped. Because of these factors, I have opted not to cover either woman in detail. That's not to say nothing interesting happened, it certainly did, but both Monroe and North weren't in the public conscious for their work as much as their personal lives – at least in regards to Monroe.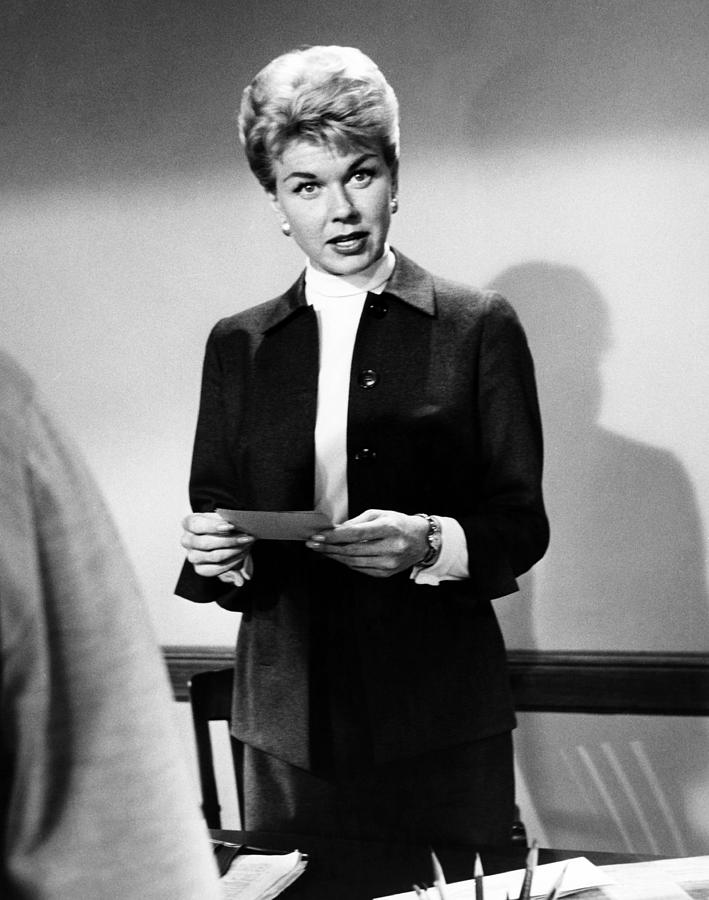 Day was featured in both Teacher's Pet and The Tunnel of Love. Both were light comedies with happy endings – the kind of mindless fluff everyone seemed to enjoy (and forbearers to today's chick flicks). Day's success still relied on being the nearly 40-year-old virgin but it surprisingly worked in a midst of women who oozed sex with each wiggle and coo.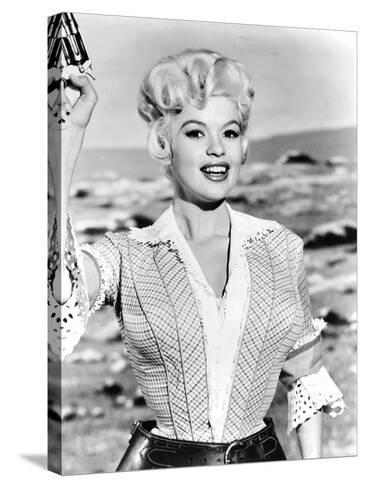 Mansfield married and had a child by the end of the year and saw one film released, The Sheriff of Fractured Jaw. Sheriff was a western filmed in the hills of Spain with Mansfield playing Kate, a hard-as-nails saloon owner with a soft side. Mansfield relied less on her physical charms and showed an ability to act – if not lip-sync – but found a lukewarm reception in the United States. Her European fans were more receptive and the film was a solid moneymaker for Fox but was quickly overshadowed by Monroe's 1959 blockbuster, Some Like It Hot. Jayne would never make an A-picture again with the exception of two cameos in the 1960s.
Van Doren was given one last push for stardom in Teacher's Pet, Highschool Confidential and Born Reckless. All were loan outs due to Universal having no suitable projects for their resident blonde. Again, one sees Van Doren playing the tough cookie, sometimes with a heart of gold and sometimes too hardened to the world to have one. Teacher's Pet was her biggest picture but Van Doren was relegated to the role of a thinly-veiled stripper. If Van Doren had proper backing from the start of her career, she may have been able to break free of the bonds thrust upon her by the era. Instead, she was forced to play cheap caricatures of Lana Turner mixed with Elvis Presley.
Ekberg didn't fare much better. While she starred with Bob Hope in Paris Holiday and Gypsy Rose Lee in Screaming Mimi, Ekberg's allure for American audiences was starting to fade. Her stunts didn't hold the same appeal as Mansfield's (who had run thin with the public by '57) and she was accused of being downright bitchy. Ekberg was the only sensual blonde of the 50s to be fully embraced by the 60s.