My focus on the 50s Blondes has festered for over a decade now. I've written a multitude of articles – and two books – on the blonde women who seemingly ruled the decade but find a heap of misinformation on their evolution from singing-and-dancing marionettes to halo-haired sex comediennes. While this piece cannot claim to be a definitive study, it is a quick primer for those looking for a brief overview.
Please note, the primary focus of this article series is 1950s starring roles. If I were to delve into smaller roles or those from the 40s, this would become academic in length. Instead, I briefly touch on small roles when they are necessary.
1950-1952
1950 used the same tropes seen in the 1940s; blondes were either joyously dancing in-between their tough-as-nails with a heart of gold plotlines ala Betty Grable or sensually slithering around their male victims as the ultimate femme fatales ala Lana Turner. Marilyn Monroe came onto the scene as the latter in 1950's Asphalt Jungle.  Marilyn received praise for her performances as Angela in Asphalt and Miss Casswell in All About Eve but her first starring role wouldn't come until 1952's Don't Bother to Knock. Knock saw Monroe perform as a deranged babysitter with plenty of sex appeal thrown in for good measure.
On the flipside, continuing in the Grable archetype, Doris Day made waves in films like 1951's Lullaby of Broadway and 1952's April in Paris. Day also ventured into dramatics, notably 1951's Storm Warning, but was billed as a more family-friendly entertainer with parred-down sex appeal. Other women were starting their careers during this time as well, such as Mamie Van Doren and Cleo Moore, but Monroe and Day were the two breakout performers of the time period.
1953-1956
This period was a hey-day for some and the beginning for others. Monroe was firmly planted in the public's mind and was looking to make her artistic ambitions a reality while Day, Mansfield, and Van Doren's peaks were still ahead. This shouldn't be misconstrued as an insult to Monroe – one can argue Some Like It Hot was the peak of her comedic talent – but instead should be viewed as Monroe carving her own niche well before the other women we will discuss.
1953 saw the release of Monroe's Niagara, Gentlemen Prefer Blondes, and How to Marry a Millionaire. Monroe was a household name who was combining the singing and dancing exploits of Grable with her own dumb, comedic, sexually-suggestive character; the latter would seemingly rule the decade, or 20th Century Fox. Monroe would continue this characterization in River of No Return, There's No Business like Show Business and The Seven Year Itch. In 1955, Monroe formed Marilyn Monroe Productions and finished her negotiations with Fox, agreeing to star in Bus Stop as part of her new Fox contract. Bus Stop was a swift departure from Monroe's usual comedic fare but still relied on Monroe's sex appeal to carry the watered down storyline of the hit Broadway play.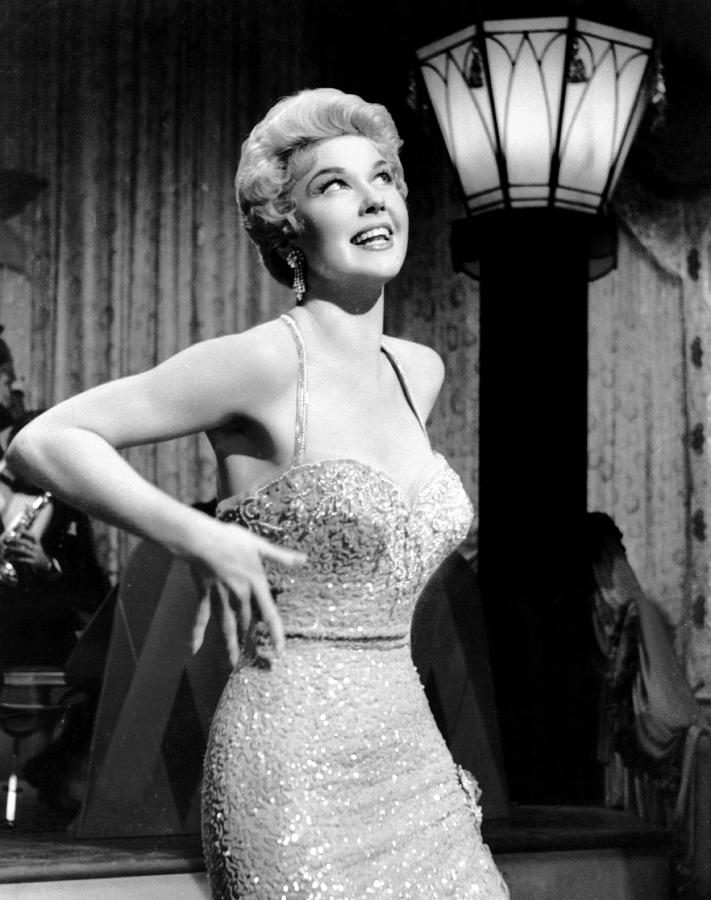 Day continued to experience box office success, starring in  Calamity Jane, Young at Heart, and The Man Who Knew Too Much. Unlike Monroe, Day's career peak had yet to come (although one could argue her film quality was never higher). While Monroe was touted as the sexual ideal of every American man, Day was the girl you brought home to your mother.
Mamie Van Doren signed with Universal in 1952 and made a splash in 1953's All American followed by starring roles in Running Wild and Star in the Dust. Van Doren had signed to Universal in 1952 (although her acting career started in 1949) but would soon find there was no real work for her with Universal besides window-dressing parts or loan outs. Her persona tended to lean towards tough-girl parts with plenty of low-cut dresses and tight skirts. While Van Doren tends to be labeled a Monroe imitator, her roles were tailored more towards appealing to a younger audience and dealt with the seedier sides of life.
Jayne Mansfield signed a contract with Warner Brothers in January of 1955 but failed to garner much interest with her home studio and failed to have her option picked up in July. She would go on to star in Will Success Spoil A Rock Hunter, a Broadway assassination on the film industry, before being signed by Fox in March of 1956. Fox agreed to buy out Mansfield's contract and she returned to Hollywood on September 16, 1956 and quick rushed into filming  The Girl Can't Help It. Much has been written on Mansfield being little more than a Monroe impersonator but looking at the context of the time, Mansfield was simply a new incarnation of the blonde sex bomb Monroe was desperate to leave in the past. Mansfield's character was dumber, blonder, and bigger. Mansfield blatantly shoved sex into her films, with the help of director Frank Tashlin, but lacked the innocent appeal of Monroe.
Sheree North signed with Fox in 1954 with the hopes of keeping Monroe in line (for those who don't know, Monroe spent part of 1954 suspended and almost all of 1955). North was closer to the Grable archetype: toned down sex appeal with an emphasis on North being a "good girl," as seen in How to be Very, Very Popular and The Lieutenant Wore Tights. By 1956, North was relegated to fourth billing in The Best Things in Life are Free.
Anita Ekberg was signed to John Wayne's Batjac Productions in 1955 but solidified her stardom in 1956's War and Peace. Contrary to what has been written, I've never found anything to support Ekberg signing with Paramount. Instead, newspapers claim Batjac loaned Ekberg out to Paramount, Warwick, and RKO. This is supported by Ekberg's filmography, where one can see Ekberg only made a handful of pictures with select studios – akin to freelancing. Ekberg brought an international eroticism to American pictures. While the press focused on her bust size, Ekberg derided American men for childlike attitudes towards sex and women.